FLAT ROOFED BUILDINGS OVERHEATED IN SUMMER CAUSE SEVERAL PROBLEMS
WaterFilm Technology®, an EU SME Innovation, offers solution for all of them:
Eliminates technical and labour-protection emergency shutdowns related to summer overheating and reduces the amount of waste.
Prevents the dilatation of the roof – eliminating leakage.
Prevents automatic shut-downs of overheated air conditioners, and reduces their energy consumption by as much as 80 percent.
In Hungary: as from 2017, 30-50% tax allowance on energy efficiency investments.
More...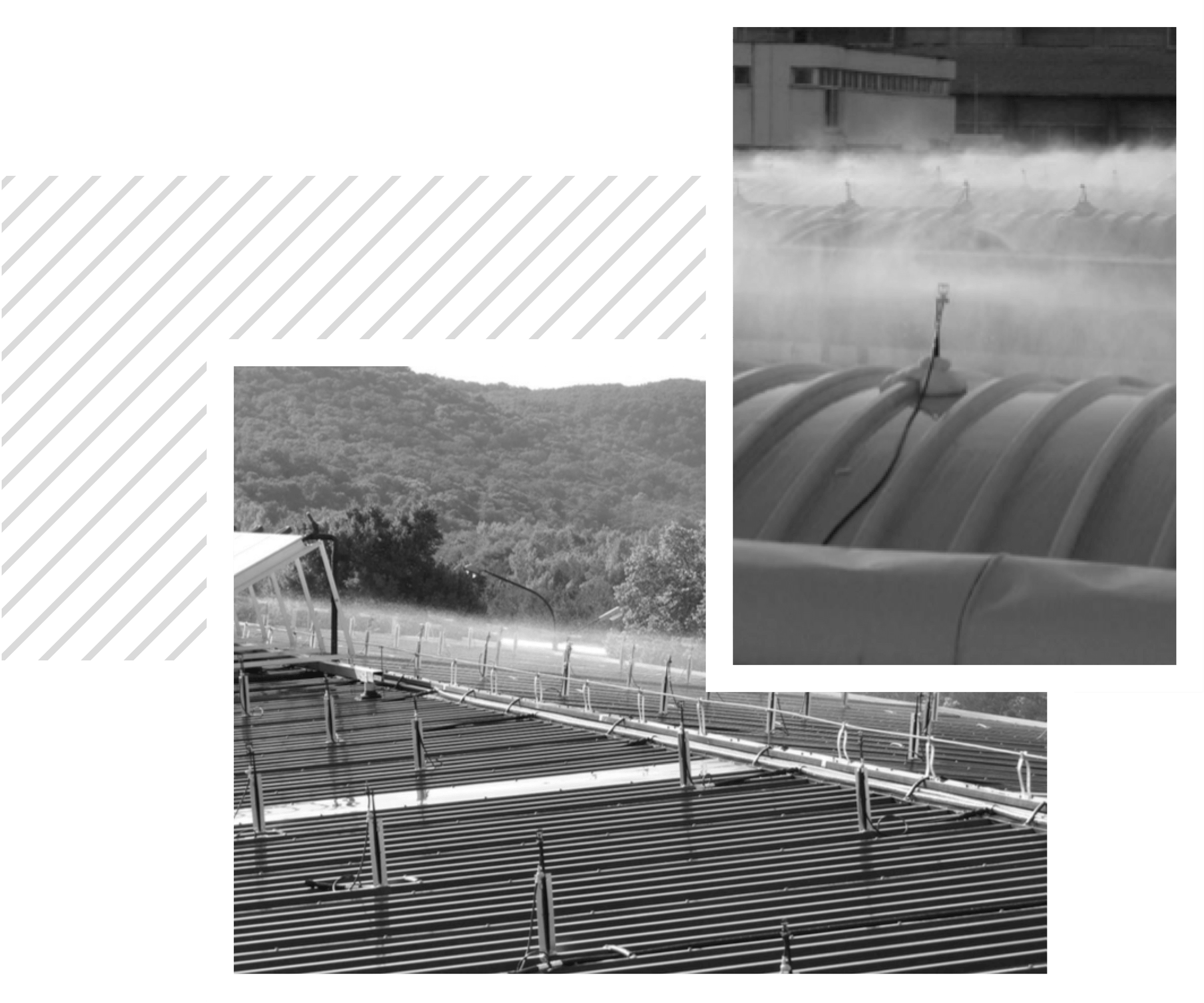 ECONOMIC, INNOVATIVE AND SUSTAINABLE
We will help to approach roof cooling from three distinct aspects. Click on: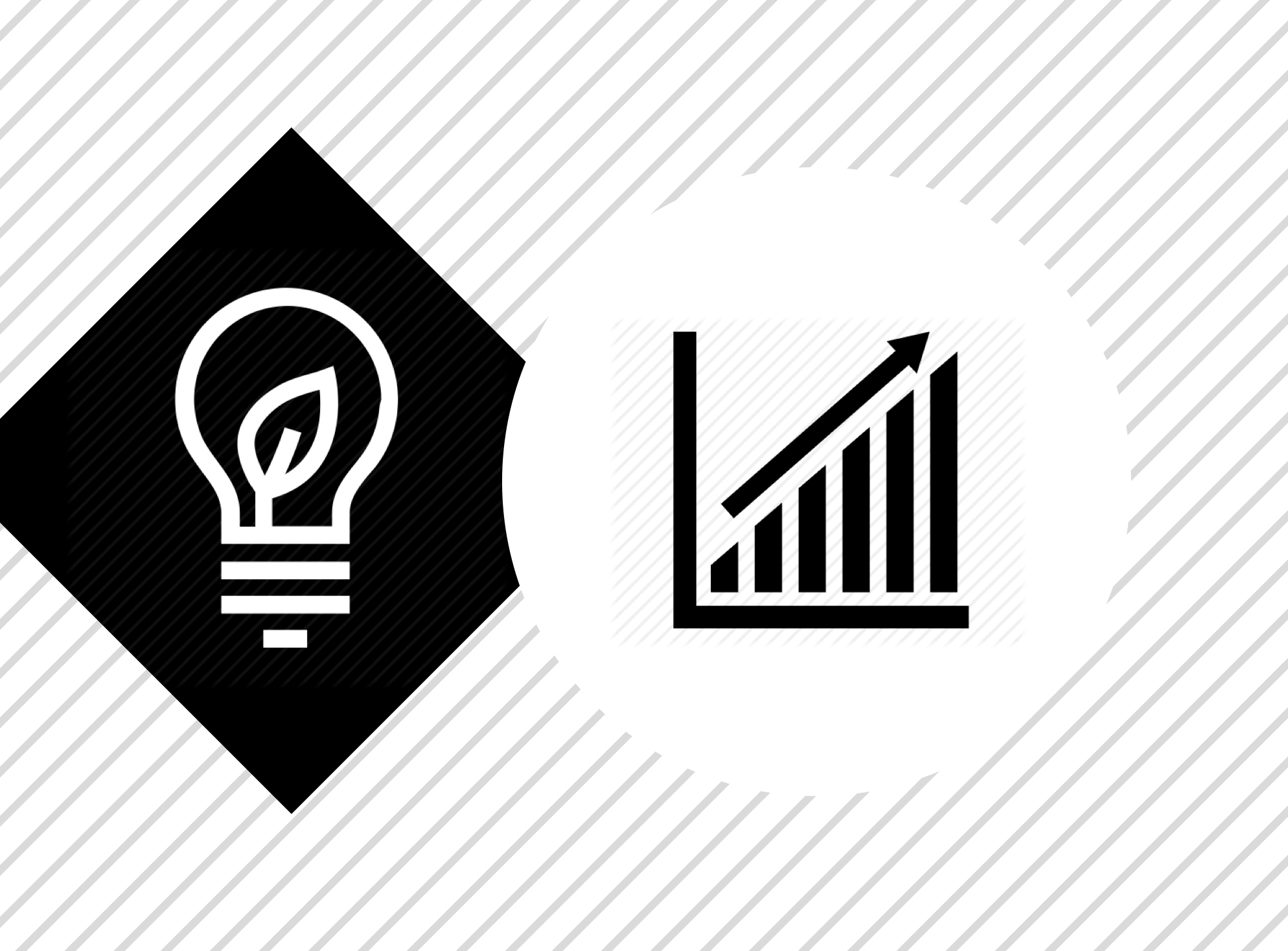 "Wherever there is a sufficient supply of industrial water available, roof cooling spray systems have proved to be the most effective and economic way of heat protection."
— ASHRAE
American Society Of Heating, Refrigerating And A-C Engineers Fdn
economic aspects
Through a well-insulated flat roof of 10,000 m2, on a single, average summer day, we let 50-60 MWh of heat-load to enter the building. When it is permanently hot, then as much as 70-80 MWh.
Investment costs
introductory price: about 110-130,000 € / roof of 10,000 m2
as a new combined system (including air conditioners as well), it is 40-60% cheaper than systems based on HVAC alone
added to existing air conditioners, the energy consumption of HVAC will drop 40-80% and they won't stop working on critical days either
Operation:
Automatic and/or emergency shutdowns as well as waste ratio related to overheating, will drop to the spring or autumn level
disorders of measurement-, hydraulic- and precision-modules as well as calibration problems will be eliminated
energy consumption of cooling equipment will drop 40-80%, so their number can be reduced
Roof-Top HVAC equipment will not shut down on critical days either
the maintenance costs of air conditioners will decrease (they won't be overloaded)
the dilatation of roof covering will diminish, stopping water leaks
ASHRAE: the life expectancy of the roof-membrane will rise by 40%
water consumption is 250 l/10,000 m2/minute with a daily maximum of 12-15 l/m2 (water footprint is 25-90% lower than the water consumption of producing electricity needed for HVAC of same cooling performance)
"low maintenance" – interactive self-management and full remote control/management
data flow and interface is adaptable to building- and energy-monitoring systems
on-site maintenance twice a year (known American and Japanese systems: on-site monitoring at least twice a month)
the efficiency of competitors in USA, Japan and India is 40-60% lower (according to their own commercials and data supply) than that of WaterFilm Technology®
Success stories:
GM Szentgotthárd: due to the high costs of overheating-related shutdowns, the investment costs were recovered within 1, that is to say, ONE DAY (3 shifts work on 7 days of the week)
Dunapack Zrt: due to the extremely high cooling costs in summer, plus by dropping production losses and waste ratio, the investments costs were recovered within 1.5 months.
technical information
In terms of thermal technology, of large, flat roofed buildings, roof is the most critical element.
Why?
Roof is the largest bordering surface, both in terms of size and proportions.
The flat roof is exposed to the heat load of the Sun - all day, continuously.
It cannot be shielded or insulated (stone-wool insulation of less than 70 cm will only change the frequency of the "thermal swing" of the building: cooling will become slower the same measure as accumulation of heat)
The "in-born" heat (generated in the plant) also rises towards the roof, either escaping through or radiating back from the roof.
The direction of heat-convection is determined by the temperature of the roof structure: as long as the roof is hotter than the internal ceiling, the inside of the building will be a net heat absorber.
PREVENTION INSTEAD OF COOLING:
without roof cooling:
in the sunlight, roof surface and the layer of air above it will warm up to 60-70 and 45-50°C respectively.
the building is exposed to 6-800 W/m2 solar heat load for over 10 hours of the day, which is 6-8 times higher than the intensity of an effective floor-heating
we let more heat energy per m2 per day to enter the building, than the total energy used by a 4 member EU household, including machinery, lighting, hot water AND HVAC…
with roof cooling:
temperature of the roof surface is permanently kept below the temperature of the internal ceiling
heat generated in the plant (rising upwards) can permanently escape through the roof (the building will permanently remain a net heat emitter rather than absorber)
the total amount of solar heat-load will remain outside
the environment of the roof-top HVAC equipments will cool down by 10-20°C, their efficiency rising by 40-80%, electricity consumption droping by 60-80%, greatly improving operational safety (automatic emergency shutdowns, regular on critical days, are eliminated)
the dilatation of the roof will drop to a minimum, so water leaks are prevented
VALIDATION, EFFICIENCY MEASUREMENTS AND ECONOMICS:
work-team of Budapest University of Technology and Economics and KPMG's global Power & Utilities Center of Excellence will conduct the measurements, calculations and validation of the project - free of charge for our first 4-5 early adopters, in 2019-20.
energetics and labour protection
"There should be focus on measures which avoid overheating, … and further development and application of passive cooling techniques, primarily those that improve indoor climatic conditions and the micro-climate around buildings." — PARAGRAPH (25) - 2010/31/EU Directive
EUROPE 2020
As far as we know, WaterFilm Technology® is the only cooling technology that fully complies with the above EU Directive, "improving indoor climatic conditions and the microclimate around the buildings" at the same time.
Hungary: based on the corporate tax amendment of November 2016, there is a 30-50% tax allowance on energy efficiency investments.
ENVIRONMENT PROTECTION AND SUSTAINABILITY:
WaterFilm Technology® meets the most stringent criteria:
European Commission - Seal of Excellence - WaterFilm Technology®, an EU SME Innovation, is outstanding in terms of all the three innovation criteria: Excellence, Impact, Quality and Efficiency of the action
it does not use or produce any material harmful for the environment
greatly reduces the emission of greenhouse gases
it consumes industrial water (groundwater, recuperated rain- or recycled water, which cannot be used for drinking)
it's global water footprint is 25-90% lower than that of traditional HVAC (the water consumption of electricity needed for the same cooling performance - depending on the type of the power station)
energy consumption is minimal (30-40 kWh/10,000m2/day as a maximum)
dropping consumption of cooling energy by 40-80 % - at the GREATEST users of consumers –
while cooling-energy is GLOBALLY the single/main sector of energy-consumption still rapidly growing – which make this sector a central focus of EU Directives as well
PATENT PENDING:
Hungarian Intellectual Property Office, as well as World Intellectual Property Organization has clearly classified WFT® as an invention that meets all IP requirements and can be put in practical industrial use
LABOUR PROTECTION:
According to customer's information, since WaterFilm Technology® was experimentally introduced in the plants of GM (Opel) Szentgotthárd and Dunapack Zrt. (in 2008 and in 2006 respectively),
there has been no overheating-related shutdown
employees has always realized and indicated a tremendous effect of WFT®, within 1.5-2 hours it has been started or stopped
SUSTAINABILITY AWARDS:
WFT® has reached the Final of Energy Globe Award, often called as the Academy Award of energetics and sustainability.
"As for those reaching the Final Round of the Energy Globe Award, the application of WaterFilm Technology® is definitely the project of the greatest significance in terms of energy savings, environment protection and – due to the working conditions of factory workers in summer –the affected workforce."— greenfo.hu
WFT® is winner of the 2018 Gran Prize Innovative Interdisciplinary Award established by the Swedish Chamber of Commerce in Hungary.
SATISFIED CLIENTS
They have already chosen us: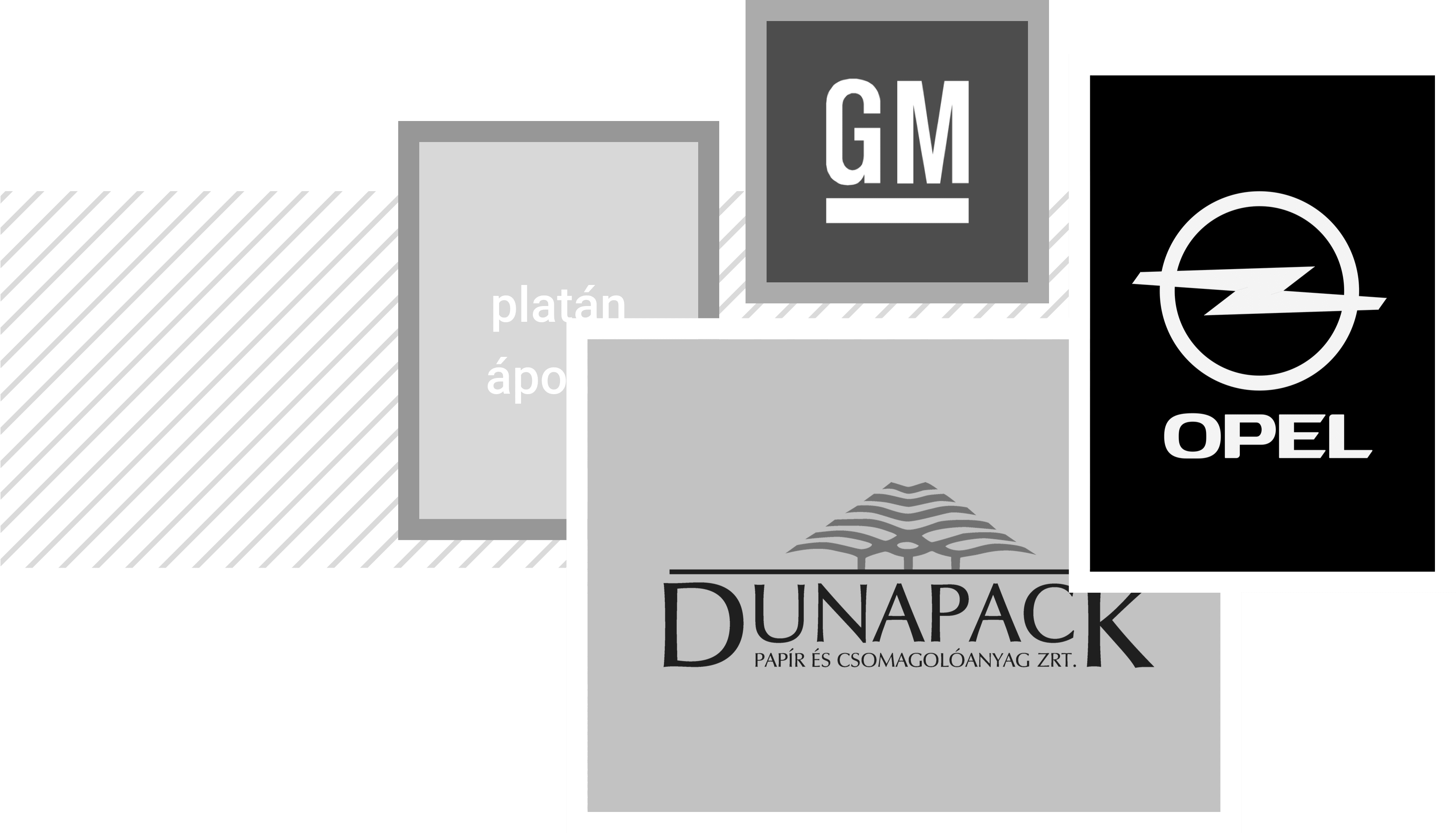 gallery
We have assisted to solve problems of small enterprises and large corporates as well.
Gallery